go to ....
http://www.financialredress.com.au/
Follow 3 simple steps, (steps 1 and 2 should take you no more than 2 mins)...then sit back and wait for your agreement to be emailed then complete step 3.
Have you all noticed how the media have gone quiet on this today?
This is because the more they talk about it, the less they are likely to get themselves, the more people who register , the less each are likely to get, but it will be something, if only $50, I have been advised.
Further more, by joining this class action, you are making a statement, telling our greedy banks that they should conduct themselves more ethically, (even if this negatively impacts on our economy)... what the heck, Rudds already stuffed it anyway, so we might as well knuckle down and start acquiring a taste for cornflakes. ...Get in for your chop!!!

.... Anyway....be careful, and make sure you go to the right website....heres a snap shot, because I have heard of cases whereby people have gone to the wrong site and been tricked into providing their account numbers, dob, all that jazz.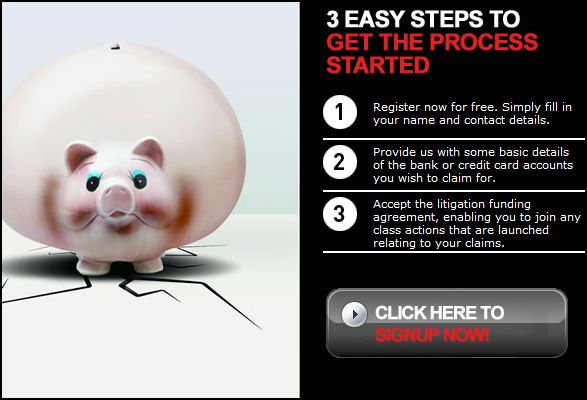 You only need to provide your name, address, and the bank you are with...oh and phone number and email address.
Just a hint, when they ask you how much you suspect the bank owes you, don't say you are unsure, advise them you are aware the banks owe you $2000 plus, even if you aren't sure.