THE GIST
*A molecular robot made of DNA has been created by scientists.
*The nanobot walks like a spider and follows a track made out of stitched-together strands of DNA.
*In a separate study, another research team had enabled a nano-scale "assembly line."
http://news.discovery.com/tech/dna-nanobot-spider.html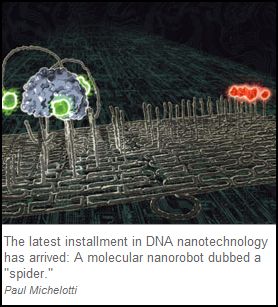 What next,
uploading
downloading(rather) a cure for tonsillitis?
......Now if we could only locate our USB port.

..Interesting stuff hu... basically, it's the stem cell, building block to half man (biology) half machine (electronic)..